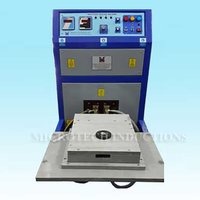 Shrink Fitting
Product Description
Shrink Fitting
Induction Shrink Fitting is a process where a union is formed using the phenomenon of expansion during the heating of the material and contraction during the cooling of material. Induction Shrink Fitting is useful in forming the mechanical assemblies and delicate parts where mechanical pressure cannot be applied. Residual deformation and stress reduction, fast and repeatable process using the flameless technique, easy operating features and state of the art are the main advantages of Microtech's Induction Shrink Fitting Machines.
Also union / mechanical assemblies formed by Induction Shrink Fitting can also be dis-assembled by selective heating of the components. Microtech make Induction Shrink Fitting helps to get a uniform heating with energy saving features
Application:
Shrink fitting of gears on shaft.
Shrink fitting of sleeves on shaft.
Shrink fitting of stator in outer enclosure.
Shrink fitting of rotor shaft to rotor.
Removal and re-fitting of a gas turbine impeller
Assembly of high precision roller bearings
Shrink fitting of 2- stroke crank shafts for ship engines.

Specifications:

Power range

1-5kw

05-15kw.

15-50kw

50 -200kw

Frequency range

15-400khz

15-100 khz

15-30 khz

15 – 30 khz

Adaptation to change load charecteristics

Yes

Yes

Yes

Yes

Power control

Auto

Auto

Auto

Auto

Load sensed self tuning

yes

Yes

Yes

Yes

Size (mm)

W-170
b-495
h-350

W-530
b-640
h-1110

W-620
b-725
h-1370

W-1000
b-1090
h-1675

Input power range

Single phase
230v/50hz.

Three phase
440v/50hz

Three phase
440v/50hz

Three phase
440v/50hz