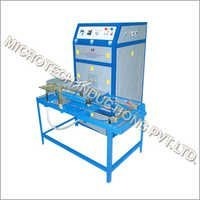 Induction Heating Machine
Product Description
Induction Heating Machine
We hold immense expertise in manufacturing, exporting and supplying an outstanding stock of Induction Heating Machine in the national as well as international market. Our range is specially developed for various heating applications such as billet heating for forging, surface hardening of tools, shrink fitting, gattering of vacuum tubes and tang forging of files. This eco-friendly Induction Heating Machine is manufactured using premium quality raw material.
Features
Highest system efficiency
Noiseless and flameless operation
Application Specific design
Grade Standard:
Further details

Induction heating is a method of providing fast & consistent heating for manufacturing applications which involved bonding or changing properties of metlal for electrically conducting materials.
Toda's advanced design concepts warrant most engineering components to be heated to either from different shapes or attain specific grain structures.
Microtech's range of induction heating systems are offered for custom built applications with suitable coils, materials handling solutions with complete automation.
SALIENT FEATURES

Selective Heating
CAM operated rotary indexer for precise & positive location
Spinning job hold ensures uniform heating
Hydraulic mechanism for handling jobs
Highly adaptable for automation
Eco-friendly due to noiseless and flameless operation
No statutory approvals required
Lesser risk involved compared to conventional methods
Application Specific
Auto or manual mode operation
Improved power factor.
Tropicalised design

Compact size.

Heating application

Billet heating for forging
Surface hardening of tools
Shrink fitting
Gattering of vacuum tubes
Tang forging of files
Specifications
Power range

05 - 15 kW.

15 - 30 kW.

30 - 50 kW.

50 - 200 kW.

Frequency range

05 - 200 kHz.

05 - 30 kHz.

05 - 30 kHz.

03 - 30 kHz.

Adaptation to change
load characteristics

YES

YES

YES

YES

Load sensed
self tuning

YES

YES

YES

YES

Size

W - 620 mm
D - 700 mm
H - 500 mm

W - 620 mm
D - 700 mm
H - 500 mm

W - 620 mm
D - 750 mm
H - 1380 mm

W - 1000 mm
D - 850 mm
H - 1450 mm

Input Power Range

Single Phase
230 V / 50 Hz

Three Phase
440 V / 50 Hz.

Three Phase
440 V / 50 Hz.

Three Phase
440 V / 50 Hz.
In our endeavour to make better products, Microtech Induction Pvt. Ltd. reserves the rights to change any specifications at any moment and with prior notice, to the models ( including programming), their accessories and optionals.
Trade Information
Cheque, Others

20 units per month. Per Month
Week

Wooden boxes & customized packing also available.
All India

ISO 9001:2000 Certified